Back in 2012, I first visited Pai Men Miyake and raved about their noodles and pork buns. Since then, I've returned multiple times and sampled additional menu items. My most recent visit I ventured into trying the brussels sprouts. The sprouts, quickly deep fried and tossed with a fish sauce vinaigrette, cilantro, and mint, are a delightfully salty complement to beer. The dish was quickly demolished. Later, my friend Jim Troutman joined me and had already discovered how tasty the sprouts are. It was a great time.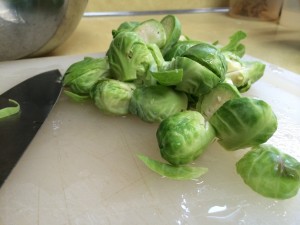 Today, I had to deal with my collection of brussels sprouts that are taking up space in the fridge. Harkening back to my last visit to Pai Men Miyake, I decided to try my own version of their deep fried sprouts. I prepared the sprouts and cut the larger ones in half.
One of my housemates recently purchased some grape seed oil. I have had a hankering to try it out and it's supposed to be a good frying oil — in the cast iron it went! I set the stovetop at about medium heat and let the pan and oil come up to temperature. Then, I added the brussels in small batches. The first batch, of course, ended up a little darker than I wanted, but the second looked great! For best effect, a couple un-cut small brussels sprouts should be allowed to cook through — they'll have a nice "pop".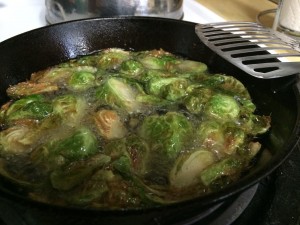 At the suggestion of Morgan, the first attempt was a mix of Maine maple syrup, soy sauce, ginger, and a little sriracha. Totally delicious, but a little too salty. The second, again tweaked by Morgan, contained Maine maple syrup, worcestershire sauce, ginger, and more sriracha.
The third version, to my mind, ended up a total winner. It contained a dab of ginger paste, about half a tablespoon of maple syrup, soy sauce, and rice vinegar, and sriracha to taste.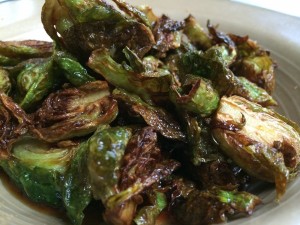 Needless to say, the brussels sprouts disappeared into hungry mouths rather quickly.
Since I had left over frying oil, I took a couple chicken breast cutlets, coated them in mayonnaise and chipotle panko, and gave them a quick fry. The chicken ended up moist on the inside and had a nice crunch on the outside. The oil was a little too hot for the panko, but the slight burning didn't spoil the dish too much.